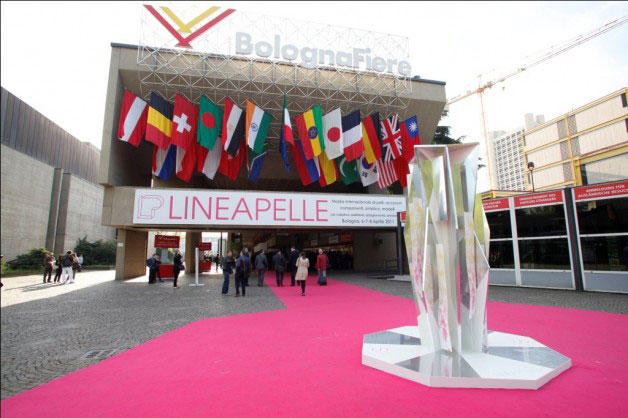 As part of my trend research, I always look forward to a visit to Lineapelle, the international leather trade show held twice a year in Bologna. I made my first trip to the fair back in 2002 with a bunch of friends when we were studying footwear at uni,  but I have returned many times since. Being able to look at and feel all the leather samples can be a real source of inspiration and this year I had the added bonus if meeting up with our friends from 'L'Arlecchino', who I wrote about in the Summer. I've got half an idea to start making my own bits and bobs from leather ad they were full of tips and advice as to how I can get started. Thanks Giorgio and Lella – it's always a pleasure to chat with you two!!
Anyway, as part of my full, leather-immersion, I also scoured the A/W 2014 trend area and here are some of my observations for Winter next year…
Use of neoprene & neoprene meshes.
Baroque designs and flocking patterns used on suede.
Lots of laser-cut patterns to create delicate, lace-like leathers.
Metallic finishes but kept quite matte – coppers, golds and silvers…
Quilted patterns created with stitching
Geometric shapes and patterns – printed, embossed, stitched, moulded into leathers and fabrics.
Embellishments on leathers like studs and jewels. Mixes of studs with laser-cutting.
Wooly tweeds, houndstooth and heavy weaves for Winter; blanket checks and tartans.
Felted wool – some with metallic finishes.
Pinstripes
Snake and croc skins, fur and sheepskins.
Chocolate browns and neutrals, taupe
Deep reds, bright reds and pinks
Teals, dark blues and dark greens
Next step? to get some more designs on the go…!
Zoe x